Child Pool Safety
The most important fundamental of pool ownership.
A pool fence is required by law and a safety net or pool cover will not normally fulfill Government regulations. There is wide agreement that covers and nets improve child safety, but unlike a fence, Governments find covers difficult to regulate.  They argue that these barriers may not be diligently re-fitted after swimming and that the pool becomes unprotected.
Many parents, however, disagree because they understand the safety benefits that covers and nets can provide.  They take matters into their own hands and choose to fit an ultimate barrier in addition to the required fence.
With suburban backyards as small as they are, many children use the pool enclosure as part of the backyard playing space.  Often the older kids can reach the latch and let the youngsters in.  An inovative child can generally break into a pool enclosure within a few minutes.
Another lurking danger is the solar blanket.
Solar Blanket 
Although these blankets are great for warming the pool, from a safety perspective they are diabolical.  The blanket looks solid and may entice a youngster to try walking on it.  However, the blanket will give way, trapping the child underneath and leading to disaster.
Just Covers is proud to offer two levels of child safety. 
A Winter Shutdown Cover can easily support the weight of even the biggest kids!  And when kept free of water as recommended, the cover provides a significant improvement to pool safety.
For the ultimate child barrier we supply and recommend the Pool Safety Net.  Much safer than a fence, the net is tensioned tightly across the pool and has no gaps where the kids can get in.  The net will easily support the weight of a child and is unlikely to be able to be removed by kids under 12.  With basic adult supervision, this is as safe as your pool can be.  The net cannot collect water and can even be fitted to an empty pool or over the top of your Solar Blanket.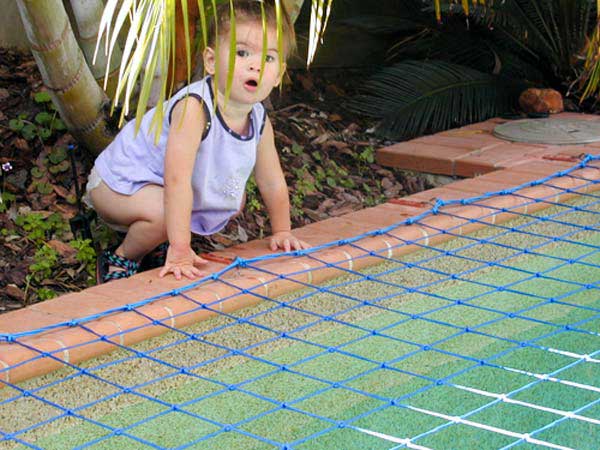 Danger Lurks
The Layered Approach to Pool Safety:-  
In Australia, drowning is the leading cause of accidental death for children below the age of 5.   For every child that dies as a result of drowning, there are approximately 3 children admitted to hospital as a result of a water incident. Studies show that between 5% and 20% of these children have suffered brain damage as a result. Irreversible brain damage begins to occur within 3-4 minutes after a person stops breathing.
The toddler drowning figures have long been considered a national disgrace. Children can drown in pools, baths, ponds, spas and even in buckets and toilets, although the majority of toddler drownings occur in swimming pools.   In order to reduce the risk of drowning, the message to parents has always been – and must always be – that supervision is the key to drowning prevention.
Australian water-safety experts also advise all homeowners to install a fence around their pool, teach their children to swim and learn resuscitation techniques. But accidents continue to happen and lives continue to be lost.  The problem is that drowning occurs very quickly and quietly. Even a momentary lapse of supervision can lead to tragedy.
In a recent survey by The Australian Consumers' Association (ACA), publisher of CHOICE magazines, found that over half of all Australian pool fences tested failed to meet a key safety aspect of the Australian standard for pool fencing.   It is clear that to reduce the risk as much as possible, a layered approach to drowning prevention must be adopted.   A pool fence will generally form the first layer of protection.  A child resistant pool cover or safety net is the final barrier between your child and the water.  When used correctly, it will save your child from drowning where fences may fail.