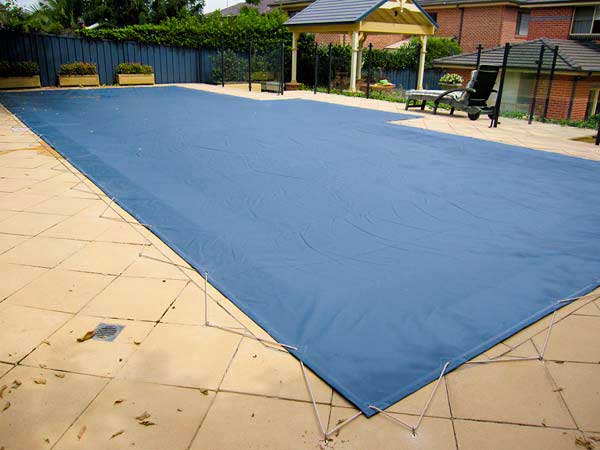 Winter Shutdown Cover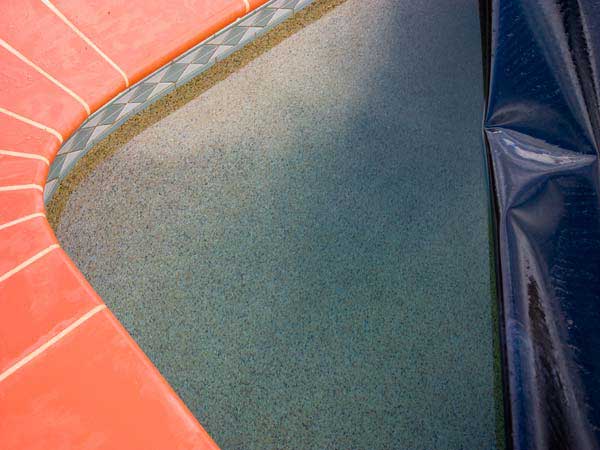 A springtime sneak peek.  The Cover is working great!
Pool Shutdown
Pool shops and pool technicians have a vested interest in NOT promoting Shutdown Covers because these covers essentially put them out of work.  Pool shops will not act as resellers for our product because it undermines their chemical, equipment and pool servicing sales.
Save time, hassle and big $$ by shutting your pool down during the non-swimming season.  Chemicals and filtration are not normally required during the shutdown period.
Think about it; For most pool owners the swimming season is only 4 months long and for the remaining 8 months the pool is not in use!
It is ridiculous that most households leave their pool running all year round.
Leaves need to be constantly emptied from the skimmer and the filter continually needs cleaning or back-washing.  Water levels need to be monitored and chemicals added. Worse still, many pools just get neglected, leaving them in an awful state to prepare for the next season.
It is expensive to run your pool. 
Depending upon your electricity plan, the filter costs about 50 cents per hour to operate.  Most salt pools run 8 hrs/day = $4/day = $975 during the 8 months when the pool is not in use!  There is also wear & tear on the filter & other equipment.  Add the chemicals used and the running cost during the non-swimming season easily totals $1400. Remarkably, some households even employ a pool technician to maintain the pool!
How about simply shutting the pool down for the winter season?
Many people are sceptical about pool shutdown, however the concept is identical to that of a rainwater tank. Tank-water remains fresh and clean for drinking and household use without the need for filtration or chemicals.  This is because the water is relatively clean and is not exposed to sunlight.
A properly installed Winter Shutdown Cover will seal off the pool and keep the water fresh and clean without any need for filtration or chemicals.  The cover keeps out all dust and debris.  Very importantly it is also opaque, preventing any light from entering the pool.  Mould and algae cannot grow because there is no light*.
Clean your pool and cover it at the end of the swimming season, then save by shutting down your filter and chlorinator.
The benefits:- 
No Filtration needed, saving wear and tear on Pumps and Equipment**
No costly Energy Bills
No expensive pool Chemicals
No Time Consuming Maintenance
No wasted water with virtually no evaporation  (99.6% reduction)
So shut down your pool and forget it. Open it next season – clean as the day you covered it – one dose of chlorine, put the filter back on cycle and you're ready to swim.
The Shutdown Pool Cover is manufactured exclusively for Just Covers from Guardian Reinforced Vinyl. The cover is UV Stabilized, Sanitised and supplied with a full 5 year warranty.
Just Covers are your exclusive dealers throughout Australia, Sydney, Melbourne, Brisbane, Canberra, Perth and the NSW Central Coast and Illawarra.
Consider the savings and you'll realise that the cover pays for itself in no-time.
We would be delighted to provide our expert advice to achieve the perfect pool cover solution for you.  Please contact Just Covers to explore the possibilities and arrange for your free quotation.
We also regularly supply DIY Shutdown Covers throughout Australia, New Zealand and SE Asia for self-installation.  Please contact us for details.
Important
* Where the pool pump basket and/or salt chlorinator are located in bright sunlight, algae growth may develop in these units and ultimately be transferred to the pool.  This is especially possible in tropical environments.  A dark pump-house or opaque cover over these components is recommended during pool shutdown in tropical or extremely hot environments.
** Your pool will remain fresh & clean during pool shutdown without filtration or chemicals.  It is, however, recommended to exercise your pool pump regularly to prevent the possibility of seisure.  Many pools have a 7 day timer associated with the chlorinator.  10 – 15 minutes, twice weekly, is more than adequate.  We are happy to supply and program a digital timer for you at the time of installation if required.