Get a perfect result with a DIY Pool Cover
On a tight budget or outside our installation areas?  No problem!
Just Covers are the experts when it comes to self-measure / self-installation (DIY) pool covers.
There is no need to compromise on looks or quality.  A DIY Pool Cover will still achieve a perfect result with our incredibly simple measuring and installation procedures.  Choose between our overwhelmingly popular Leaf & Debris Cover or the Winter Shutdown Cover.
In most cases we can measure your pool on the internet to provide an accurate quotation.  If you choose to proceed, we will assess your pool photographs to prepare a specific diagram showing exactly how to mark out your pool and the measurements that you need to take.  Needless to say, the cover will be shaped exactly to your pool.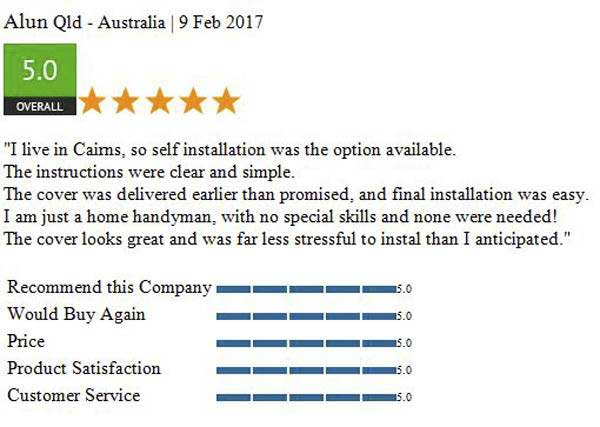 We are with you every step of the way.
You will be given the direct number to the technician responsible for your cover who will be available 24/7 if you have any questions during measuring or installation.
After you return the detailed measurements to us, we will prepare a computer generated plan of your cover and email it to you for approval.  Generally the plan will be exactly right, but sometimes an adjustment may be necessary.  Please be assured that we are dedicated to supplying you with the perfect cover and will work with you to ensure that your cover is easy to handle, a precise fit and a pleasing result.
After you have approved the drawings, full payment is required and the finished cover with installation instructions will be dispatched to you within 2 weeks.
New innovation provides simple installation.
Our covers now have unique index marks which are predetermined by the shape your pool.  To install, simply align the index marks with the corresponding positions on the pool coping and secure the cover in place.  Installation could not be simpler… However, your personal technician remains at your disposal in the unlikely event that you need assistance!
Would you like a quotation?
Please complete our Online Quotation Request with basic L x W dimensions as well as some photos of your pool.
We look forward to hearing from you.
We regularly supply DIY Pool Covers throughout Australia, New Zealand and SE Asia for self-installation.  Please Contact-Us for details.