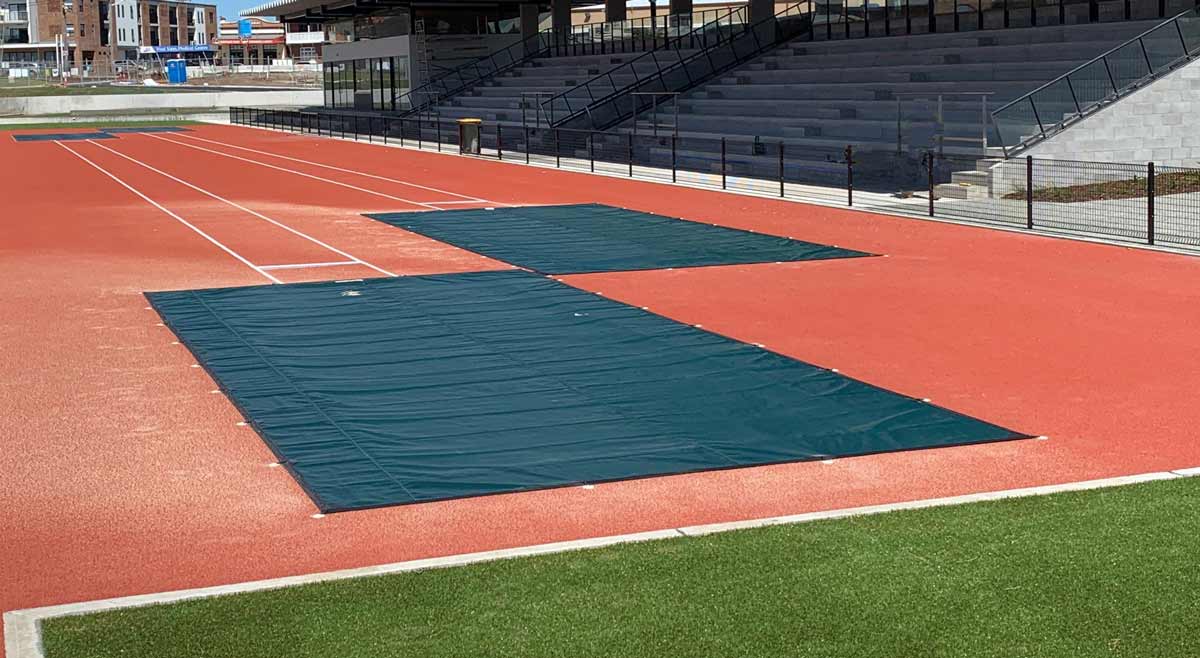 Long Jump Covers
Just Covers proudly supplies Long Jump Covers to Schools, Sporting Clubs, Councils & Government Agencies throughout Australia.
In recent years there has been an increased awareness of the potential health risks associated with uncovered Long Jump sandpits.
Many schools, councils and sporting clubs have taken the initiative to protect long jump competitors against animal feces and other contaminants that may find their way into the sand.
Just Covers specialise in custom made long jump covers specifically for schools, sporting clubs and Government agencies.  Our Long Jump covers will keep animals, dirt and leaves out of your sandpit.  Our Long Jump covers are strong, lightweight and are supplied and installed with a full 5 year warranty.
Just Covers long jump covers are made from woven polyethylene which is highly UV resistant. The material does not pool rainwater which would cause a potential hazard and also hinder removal of the cover.   The cover is breathable and encourages rainwater to wash through the sand, gently cleansing it.
Our mesh is constructed from USA manufactured polyethylene and features fully welded seams which run across the cover for extra strength and support.  The cover is fully hemmed, highly UV resistant and is supplied with a full 5 year warranty.  Our long jump covers are available in either Ocean Blue or Rainforest Green.
We offer a selection of different fittings which can be used to attach to a variety of surfaces, such as grass, concrete, rubber or timber edging.  Our unique fittings are non-trip, non-stub and designed to overcome the problems of traditional attachments which we have identified during our long history with this product. Please refer to our specialist attachments page.
Just Covers will measure, quote and fit your custom made Long Jump Cover in our service areas of Melbourne, Sydney, Brisbane, Canberra, Perth, Gold Coast, Sunshine Coast, NSW Central Coast & Illawarra.
We will be happy to discuss the various options with you and provide a no-obligation free quotation.  Please complete our webform with basic L x W dimensions as well as a photo of your Long Jump.
We look forward to speaking with you soon.
Give your Long Jump competitors the ultimate protection. Request an online quotation from Just Covers now and arrange installation of a custom Long Jump Cover at your school or sporting club.
We also regularly supply DIY Sandpit Covers throughout Australia, New Zealand and SE Asia for self-installation.  Please contact us for details.