Custom Leaf Cover for Pools with Rock Features
Our Premium Leaf & Debris Cover is versatile, lightweight and effective, making it a clear choice.  It is the only Pool Cover available in Australia with the necessary design features and specialist fittings to guarantee a perfect fit to rock edge pools.
The Premium Leaf & Debris Cover is stretched tightly across the pool and does not contact the water.  It will prevent Leaves & Debris from entering your pool and will fit seamlessly around rocks, water features and other obstructions.
The Premium Leaf Cover is our most popular and versatile pool cover.  Extremely attractive, this cover is very light-weight and incredibly easy to remove and re-fit to your pool.  Being an open mesh material, the leaf & debris cover does not collect rainwater, is neutrally buoyant and will not become water-logged should it fall into the water.
Blocking out 80% of the sunlight, you will be able to significantly reduce maintenance of your pool with this cover in place.  During winter, you should only have to run the pool filter for about an hour per day. Chemical requirements will also be reduced by about 50% with our Premium Leaf & Debris cover fitted to your pool.
The Premium Leaf & Debris Cover is very simple to manage.  It will effectively keep out ducks and all leaves & debris, yet does not pool water on top of the cover after rain.  The cover is pulled up tight by the straps and stays dry above the water level.  Leaves and debris falling on the cover will remain dry and generally just blow off.  You can assist this process with a blower if required.
The leaf cover will effortlessly support small animals, keeping them high and dry above the water.  Our Leaf & Debris Cover is not intended as a safety cover, however, it is firmly secured to the pool surround and does not detract from child safety.
Our Premium Leaf & Debris Cover is made of virgin woven polyethylene fabric.  The fabric is specially formulated for pool cover use and is stabilized against the damaging effects of Chlorine and Ultra Violet light.  The cover is extremely durable and carries a full 5 year warranty against faulty material, parts and workmanship.  With proper care, a life span in excess of 10 years can normally be expected.
The Premium Leaf & Debris Cover will solve even the most extreme leaf & debris problem.  Our pool cover experts will design and custom build your cover to fit neatly and accurately around rocks, waterfalls and other features.  In fact, we regularly fit covers to pools that our competitors have dismissed as impossible!
Our Leaf & Debris Cover is the best available:-
Guaranteed perfect fit to keep leaves & debris out of your pool.
Extremely lightweight & durable, polyethylene trampoline mesh which is manufactured in the USA.
Does not puddle rainwater.
Fade Resistant straps & material.
No deck roller is required. Simply place the lightweight cover in the generous storage bag provided.
Self Cleansing – Rainwater passes through the Leaf & Debris Cover, gently cleansing it.
Full 5 year warranty against faulty material, parts and workmanship – not the inferior pro rata warranty which is offered by our competitors!
Fully welded seams which run width-wise across the cover for stronger construction & better support*.   Unlike our competitors sewn seams that are prone to failure, our welded seams are the strongest part of the cover!
Reinforced straps, buckles and pavement anchors are aligned with each seam to provide a strong matrix of extra support. This keeps the cover high and dry above the water line.
The Premium Leaf & Debris Cover is NOT a safety cover, but is secured to the pavement. It will effortlessly support small pets and animals.
Stylish (316) Marine Grade Stainless Steel anchor pins which secure the cover with only a discreet 5mm drill hole in the pavement.  The inconspicuous attachments are the same diameter as the hole in a cocktail drinking straw and are positioned almost a metre apart. The attachments do not damage the pool surround or affect the aesthetics of your pool. The cover is tensioned by pulling on the straps after fitting.  When the cover is removed, all that remains are a few tiny holes in the pavement!
Our Leaf & Debris Cover is fully hemmed and fitted with reinforced straps & buckles.  Also, the strap ends are sewn over to prevent the anchor hooks from falling off and becoming lost.
A full selection of special anchors are available which are specifically designed for the complex cover installations on pools with rocks, water features, fountains and retaining walls.
The Premium Leaf & Debris Cover can be fitted to an empty pool.
Our fully automated manufacturing process from CAD to completion ensures accurate & consistent, high quality production.
DIY self-measure / self-installation is available outside our service areas or to suit your budget.* Seams may run length-ways on long, narrow pools.
We would be delighted to provide our expert advice to create your perfect pool cover which is guaranteed to fit seamlessly to all the features of your pool.
Please complete our On-Line Quotation Request or call us on 1300 COVERS (1300 268377) to arrange your no-obligation free quote.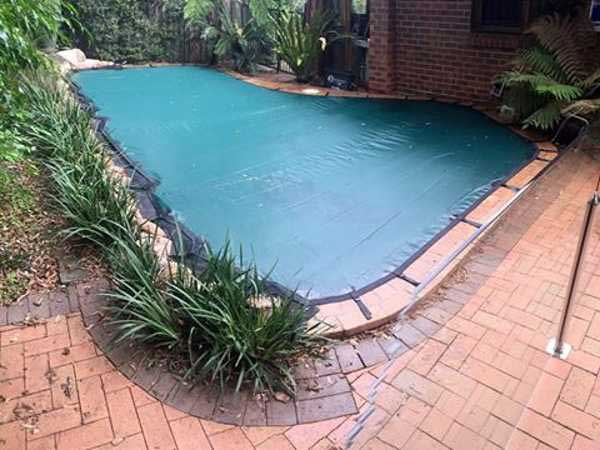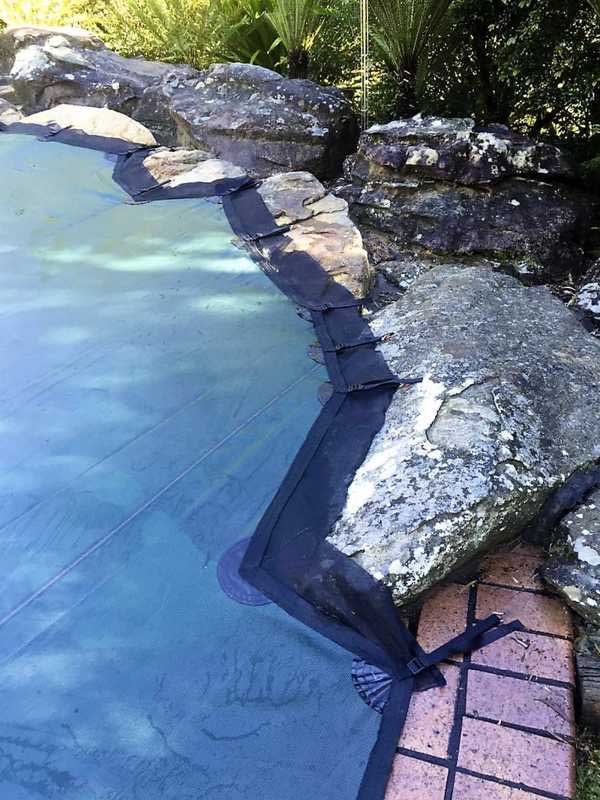 Our Leaf & Debris Cover fits perfectly to a rock edge.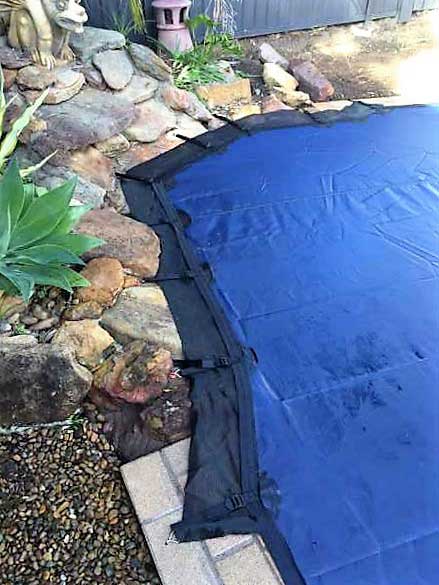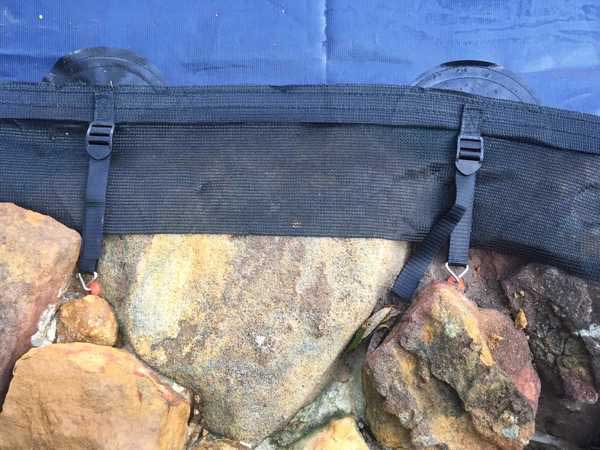 Our specialist fittings are tasteful and non trip / non stub.