Daisy Deck Mount Roller (DMR) & Below Ground Box (BGB)
Hidden Pool Cover Roller Systems
Deck Mount Roller & Below Ground Box
(Hidden Pool Cover Roller System)
Wouldn't it be great to have your pool cover roller system below-ground and out of sight.  The Daisy Deck Mount Roller (DMR) and Daisy Below Ground Box (BGB) achieve this, with the ultimate in design, functionality and style!
Depending upon the configuration of your pool surround, you could either consider a Daisy Below Ground Box (BGB) or Daisy Deck Mount Roller (DMR).  Once installed, both units look identical and have exactly the same mechanism and functionality.  There is also a Below Ground Box Small model, which is a cheaper option for pools up to 4m width and 9m maximum length.
The Below Ground Box (BGB) is a fully enclosed roller box, that is installed underground, then backfilled and paved.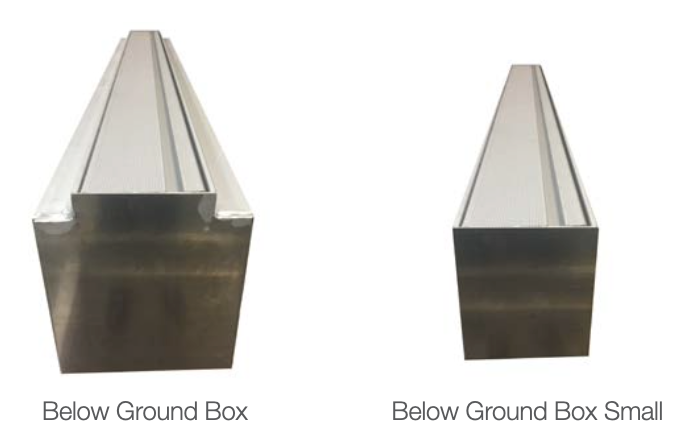 The Deck Mount Roller (DMR) is underslung and designed to be "hung" under an elevated deck or void.  The DMR can also be placed below ground, however, it will need to be "hung" within a formed cavity.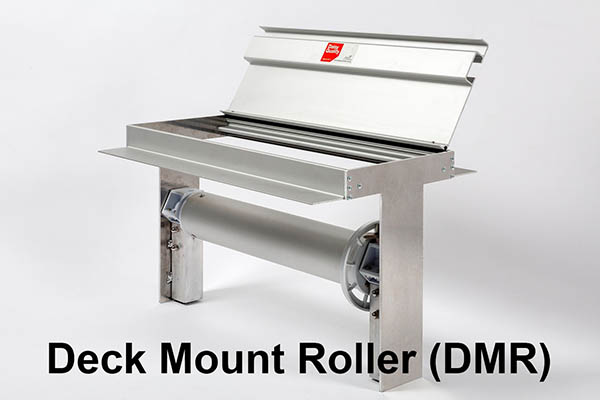 Both rollers are operated by a simple, reliable and robust stainless steel winder system, with 3:1 reduction gearbox which is the best and most reliable option for an in-ground roller system.  Please take the time to view the short video, showing the operation of the DMR/BGB.
Daisy opted for the manual crank system, because it is extremely reliable, cost effective and easy to use.  In-ground electric rollers are expensive, unreliable and extremely prone to failure. It only takes one heavy downpour and the box may flood, with associated electrical problems. Consequently, a number of competitor's electric models have been discontinued.
If you are able to incorporate the underslung Deck Mount Roller (DMR) into your pool design, it will be considerably more cost effective, because the Below Ground Box (fully enclosed model) is somewhat more expensive.
Installation
Although either of these rollers can be retrofitted, the ideal time for the installation is during the construction or major refurbishment of your pool area.
We regret that we are unable to offer an installation service for either of these products, because they need to be installed in conjunction with your pool and surrounding decking or paving.  Installation will be a task for your pool builder or pavior, or can also be undertaken as a rewarding DIY project.
Please refer to the linked installation guides.
The Under Bench Roller (UBR) is also a great way to hide your blanket roller, doubling as front-row seating by your pool!
The UBR is available in either manual or electric option and we are pleased to offer a full installation service for this product.  Simple yet stylish, the UBR is not just a roller, but a practical addition to your poolside furniture. Available in aluminium or a choice of wood look finishes, this roller will look stunning on your pool deck. Be sure to ask us to quote the UBR option when making your enquiry.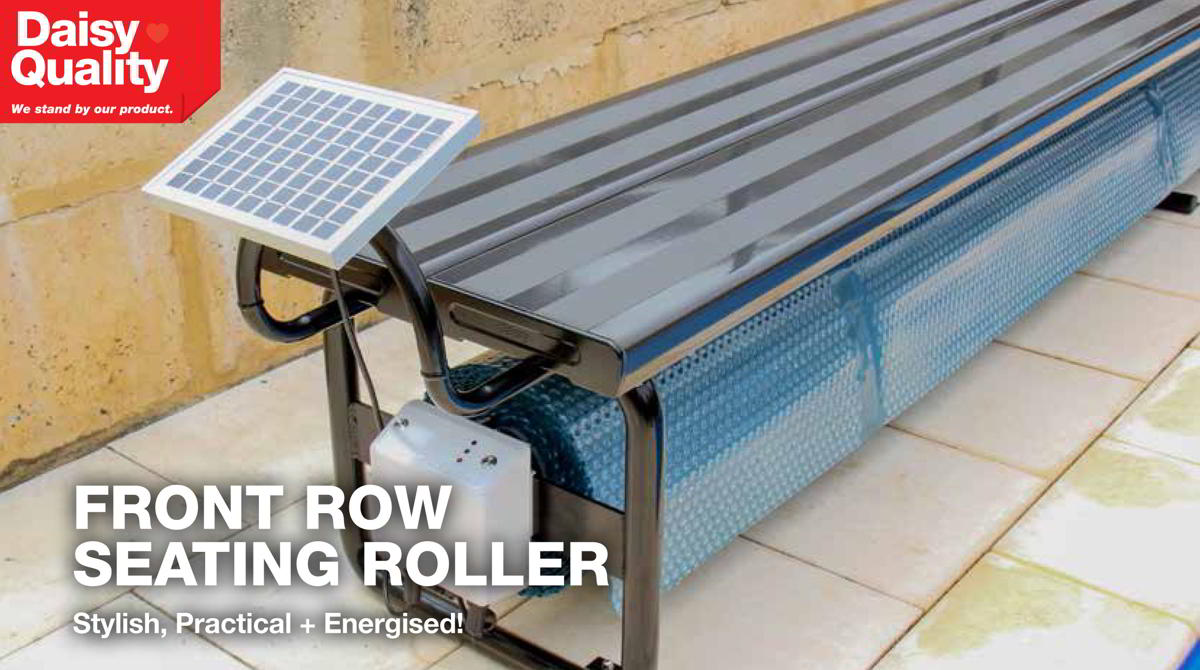 Daisy Under Bench Roller – In Cedar, Oak, Charcoal or Anodized
Boutique roller options are the Daisy Electric Power Pool Cover Roller or the 316 ST Stainless Steel Roller. The Electric Power Roller provides the ultimate easy off solution and is available with optional solar panel or as a retrofit kit for the standard ST model. Alternatively, the 316 ST Stainless Steel Roller will be a stunning feature in your pool area. Let us quote these boutique options for you.
We would be delighted to provide our expert advice to find the perfect pool cover solution for you.  Please contact Just Covers to explore the possibilities and arrange for your free quotation.