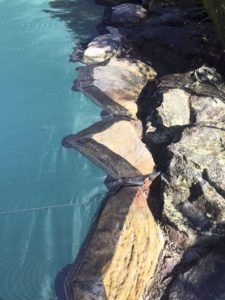 Swimming pools come in all shapes and sizes. While many are simple rectangular shape others may have an irregular shape due to space limitations or features such as rocks, a fountain, waterfall, or even a decorative wall. In this instance, it can be difficult finding a pool cover to fit.
Pool cover dilemma
While many pool covers are available on the market, the problem isn't necessarily as much about locating a pool cover to fit the shape and features of your pool, but rather the fact that in the majority of cases a pool cover roller is required. Your problem now becomes more complicated as not only do you need to find out whether a pool roller installation is possible in your situation but, if so, will the odd shape of your pool cover lend itself to being rolled up?
This is certainly a valid consideration since most pool owners find the attachment of a pool cover roller necessary for ease of handling, except if the cover is exceptionally small.
If your fenced-in pool is a 'tight fit' then there may not be room for a pool cover roller to stand in the right position on the deck. In circumstances like this where a pool cover roller couldn't be used, you may have been advised not to purchase a pool cover at all.
The challenges of fitting a pool cover to a pool with a feature wall or fountain
Covering a pool which incorporates a feature wall, rocks, or a fountain, is a speciality service which only a few pool cover companies are able to do. It's likely to involve several complications including:
No access to one or more sides of the pool. This means that the installer will usually have to fit the pool cover while being in the water.  It's also possible that a person wanting to remove or refit the cover will need to enter the water in order to do so.
Many pools with a feature wall also have vertical walls which enclose the feature wall or opposite ends of the pool. This means the pool cover needs to be fitted exactly between the obstructions – which is no mean feat.
So if you really want a pool cover but the odds are stacked against it, what can you do?
When it comes to fitting pool covers for unique or odd shaped pools, we've got it covered.
Introducing our unique Premium Leaf and Debris Pool Cover
Our unique pool cover design and specialist attachment system solves all of the problems mentioned above by keeping the cover taut above the water level, wrinkle-free, and high and dry. Any leaves or debris which collect on the cover are simply blown off by the wind or with the assistance of a garden blower.
Our pool covers are custom designed by Just Covers experts to fit neatly and accurately around rocks, fountains, and other features. In fact, we often fit pool covers for customers that other companies have dismissed as being impossible.
Made from trampoline mesh, our leaf and debris pool cover is extremely lightweight and won't puddle rainwater. It's secured to the paved area around your pool using reinforced straps and buckles. As a result, there is no need for a pool cover roller. Simply undo the straps and the cover will float on the surface of the water enabling you to remove it and fold it away in the roomy storage bag that it's supplied with. It's an easy job even for one person.
If you'd like to learn more about our custom made leaf and debris pool cover then contact Just Covers on 1300 268377 and let's talk.