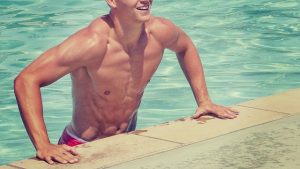 If you've ever tried to keep your pool going all year round, you'll know that the ongoing costs can be quite significant.  With this in mind, how can you enjoy your pool all year round without it making a huge dent in your wallet? We've put together 4 ways to keep pool heating costs down, so pull up a chair and enjoy the read.
To maintain your pool all year round requires commitment and that applies even if you're not using it all year round. However, there are a few simple steps you can take that will keep your pool running smoothly and be cost-effective as well.
Try Switching to a Variable Pump
One of the largest users of energy is undoubtedly your pool pump. Did you know that this can cost as much as 5000 kWh per year?
The initial cost of a pool pump accounts for just 20% of the total expenditure of an average pool pump while the other 80% is made of electricity costs. With this in mind, and as a top tip to keep pool heating costs down, when buying a pool pump owners should think in the long term.
A variable speed pump can be programmed to the cleaning, filtration, and sanitation requirements of your specific pool and can save you hundreds of dollars over the year on your energy bills when compared to a conventional fixed speed pump.
Try a Pool Cover
Another of our 4 ways to keep pool heating costs down is to invest in a pool cover. A cover creates additional heating that is otherwise lost through evaporation.
Pool covers themselves can result in a rise in the temperature of your pool water of between 4 and 8 degrees. Since a cover works to retain as much heat as possible, you're likely to find that you won't need to use your pool's heating system quite so much and this can lower your energy costs.
Turn the heat down
An easy and quick way to keep pool heating costs down is simply to adjust the temperature. If you find yourself using your pool less in the cooler months, then why not consider turning down the temperature. You can always turn it down on a Sunday evening and turn it up again on a Friday, to make it warmer for weekend use. While these may seem like insignificant changes, every little counts, as they say, and the savings soon mount up.
Switch to Solar
Switching to solar pool heating can be the most effective way to heat your pool and beats both heat and gas pumps in cost efficiency.
The water circulates through heated panels which are usually placed on your roof and then it's returned as warm water to your pool until it reaches the desired temperature. On a sunny day, 4 times the heat energy of a gas or heat pump can be produced with solar panel heating. Just remember to ensure your solar pool heating must be the correct size and positioned in the right place to take full advantage of the sun exposure.
Hopefully, these 4 ways to keep pool heating costs down have been useful.
While we can't profess to sell pumps or solar panels, but we do design and install high-quality pool covers for all pools of any type or size. If you'd like a free no-obligation quote or need more information, get in touch with the pool cover experts at Just Covers.