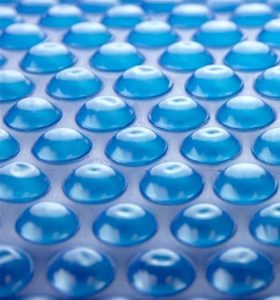 Congratulations on purchasing a solar pool cover. Now you've bought this useful item of pool equipment, you may be wondering how to care for it as well as how to get the most out of your investment. That's a great idea – particularly if you've never owned a solar pool cover or blanket before since there are a few important things to be aware of.
Let's get started with some advice from the pool cover experts at Just Covers. Below, we've listed some solar pool cover tips and advice. This is based on questions we're frequently asked by our customers as well as our many years of experience in the industry.
So pull up a chair and enjoy the read…..
Should my pool cover be placed with the bubbles facing upwards or downwards?
This is a good question to ask and one that is very common too. Many people are unsure whether their solar pool cover should be placed with the bubbles up or down. To clear this matter up once and for all, the answer is with the bubbles facing down.
Why?
A solar pool blanket is designed to absorb heat from the sun which is then transferred into the pool water. Placing the bubbles face down into the water enables the blanket to trap the heat which is then transferred into the water via the bubbles. However, placing the blanket with the bubbles facing up will, over time, damage the cover. How? In essence, while the bubbles will still absorb heat, because they're facing the wrong way up, they won't be able to transfer the heat into the water and will, instead, overheat.
Is my solar pool cover at risk of damage from chemicals?
Chlorine can damage your pool cover if your pool happens to have more than the recommended level in the water.
This could happen, for instance, if you were flushing your pool with extra chemicals due to an outbreak of algae.
Another thing to bear in mind is that having a pool cover means you can lower the amount of chemicals you use, so be sure to adjust the levels accordingly.
How should I store my solar pool cover?
To avoid damage to your pool cover it should be protected from the sun when it's not in use. Basically, if the cover isn't in the water there is nowhere for it to transfer heat which means it will start to break down and the bubbles may peel away from the bottom layer.
Most solar pool covers come with a roller system that makes it a breeze to remove them and take proper care of them, as well as store them away in the winter months. The roller may be stationary or on wheels which means it's easy to wheel it away when it's not being used.
Ideally, a solar pool cover should be stored in a shed or garage and cleaned beforehand to remove any chemical residue.
What about damage? Can I repair my solar pool cover?
This depends on the type of damage incurred and the type of blanket you have. Typically edges can be mended whereas tears or holes are tricky and often impossible to repair. If you have damaged your cover, it's best to contact your local pool company. Depending on the extent of the damage, it may be easier to buy a new cover.
What are the benefits of a solar pool cover?
The main benefit is that they prevent water evaporation. Did you know that a pool can lose almost 100 litres a day? Without a cover, you would have to keep topping up your pool and adding more chemicals which means even more costs.
Do solar pool blankets really prevent heat loss?
Sure they do, the clue is in the name. Just as a blanket keeps you warm in bed so a solar blanket keeps the water warmer.
Can I swim in the winter with a pool cover?
With a solar pool cover, you should be able to swim quite comfortably for most of the year and when combined with a pool heater, you should be able to enjoy your pool all year round.
If you're considering a solar pool cover then we supply Daisy Solar Blankets which are durable and long-lasting compared to most other brands. Depending on your situation, they can last for over 10 years.
If you're looking for a pool cover, then look no further than Just Covers. Get in touch today to discuss the type of pool cover you require.