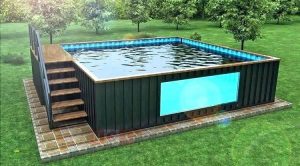 If you can't afford the luxury of an in-ground swimming pool then perhaps it's time to consider a container pool. Shipping container pools are more convenient than in-ground pools and won't break the bank either.
With sustainable building and budget-friendly renovations in high demand, there's never been a better time to consider a container pool. We think they're great and here are 5 reasons why you may think so too.
1. A container pool is quick and easy to instal
Let's face it, when else could you have a swimming pool delivered to your house, filled with water that afternoon and be splashing around in it later that evening!
Transporting the container is like second nature, given its original use, and once it arrives, you simply need a crane to place it in your yard and you're good to go.
2.Budget-friendly
Costs can soon rise when you're planning an in-ground pool. Not only is there construction involved but gallons of water to fill it, not to mention needing plumbers and electricians on board to set it all up. Shipping containers, on the other hand, just need a flat piece of land to sit on and usually come with plumbing and electrics installed. Easy isn't it!
3.Easy to create a design
Whatever the shape of your yard, it's easy to personalise a container pool whether you choose a 12-metre pool or a small 6-metre plunge pool.
The side of the container is yours to do what you will with – whether that's inserting a window so you can watch people swimming inside or whether or decorating it with elaborate murals. Having a window also makes it easier for parents to keep an eye on the kids.
4.Low maintenance
Due to its welded steel body that has in the past borne huge loads, it's easily strong enough to become a swimming pool. The inside is lined with fibreglass when the container is being prepared for home installation which, to all intent and purpose, means you're getting a fibreglass swimming pool as opposed to lining a corrugated container.
5.Portability
Now, this is a really cool benefit. If you're thinking of moving house sometime soon, then you can always take your container pool with you to your new property which means there are more houses for you to choose from since you already have a pool.
On the other hand, if a potential buyer loves your pool, you can always negotiate a price for it. Either way, you're not going to lose out.
Shop container pool covers
Naturally, if you choose to invest in a container pool it makes sense to cover it when it's not in use to help keep the water warm and to prevent dust and debris from getting into the water.
At Just Covers we design and install container pool covers that can be made to the exact measurements of your container for a perfect fit. You can read more about them on our website or call 1300 2608377 and speak to our pool cover experts.