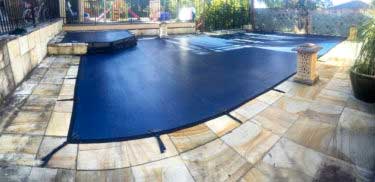 There's no better way of cooling off on hot sunny days than with a dip in the pool. Besides being a fun thing to do with friends and family, it can also be part of your daily exercise. While we totally get that you're super excited about installing a pool in your backyard, it's easy to rush into things and then regret them later.
Instead, take your time and consider the best design of your pool so that it enhances the surroundings and fits your situation. This doesn't just involve the space that you have, but also how much usage your pool is likely to have, and more importantly your budget. We've put together a few tips for helping you choose the right material for your pool.
Generally speaking 4 main types of material are used in below ground pools: concrete, ceramic, vinyl liner, and fibreglass. Each of them comes with their own pros and cons, so let's dive in (pardon the pun) 🙂 and take a closer look.
Concrete
We'd say that one of the very best things about a concrete pool is there are no limits when it comes to design. If you can imagine it, then chances are you can have it. It's built just like a house in that the site needs to be excavated, foundations laid, and concrete wall blocks used to create the shape. Then a lining needs to be fitted – whether that's a pool liner coating or ceramic or glass tiles. It's best to use a professional for this type of pool as mistakes can lead to your pool leaking. While a concrete pool can create the backyard of your dreams, it takes longer than all other types of pool to build and it can take several weeks or even months from start to finish.
Ceramic
Ceramic pools originate from Australia and involve using a fibreglass or composite design to which a ceramic layer and a carbon fibre mat are added. This combo gives more durability to the structure and offers more resistance to leaks and damage. Aesthetically it's one of the most attractive because the top layer can be coloured and contain glitter, so that the water often looks as if it's sparkling. It's also got a very smooth surface to prevent dirt and germs from collecting, although the bottom can be roughened a little to prevent slipping. Best of all, you'll probably only need to wait a couple of weeks before your new pool is ready to try out.
Vinyl Liner
These types of pools are often delivered to your house ready-made and consist of polypropylene plates supported by an outer ribbing which is secured to the walls with concrete. There is a choice of shapes and sizes, although you can't get them custom made. Also they tend to be blue, so you're limited in that way too. Although they're the most cost effective pool, they tend to be smaller and not as aesthetically pleasing as other types of pool. If you just want something to jump into and cool off, they're not a bad choice.
Fibreglass
Also known as a composite pool, this type is built on site using layers of solid material and elastic to create a complete shell into which the pool is placed. Although you don't need bricks for the side walls you'll need them for the foundations. Although there are few shape options, this is another cost effective pool which doesn't take long to install.
While we don't do pool installations we are experts when it comes to pool covers. Whatever type of pool, shape and size you decide on, we can provide a pool cover solution. Choosing the right pool cover is an important decision when it comes to getting the most enjoyment out of your pool and lowering your running costs too. To find out how we can assist you with a pool cover give Just Covers a call on 1300 268 377 and speak to our pool experts.