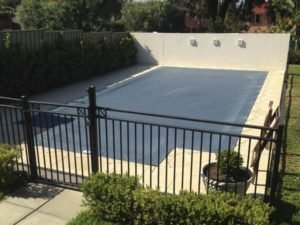 It's fair to say that there is plenty of choice out there if you're considering a pool cover but unfortunately there is a lot of misinformation too. At Just Covers we believe that the best pool cover decisions are those that are well-informed which is why we've put together a few of the most commonly asked questions regarding pool covers. So let's dive straight in and take a look ….
Q – Will any type of pool cover that I choose to use on my pool act as a safety cover?
The answer to this question is a resounding NO. In actual fact some pool covers increase the risk of a person drowing because there is a chance of them getting tangled or trapped in them. This is especially true of cheap plastic covers and solar bubble covers which are used in the winter months to cover a pool when it's not being used.
The only truly safe pool cover is the type of mesh cover that is anchored solidly so there is no way into the water when the cover is in use.
Q- Will a pool cover with a roller look ugly and detract from my landscaped surroundings?
Absolutely not. Our bench seat roller is both stylish and practical. It stores, shades, and conceals your solar blanket cover when it's not in use while also providing a robust, attractive, and functional bench seat in your pool enclosure. It's also available in a choice of 4 colours to help it blend into your poolscape.
Q – I don't have children so I don't really need a safety cover on my pool. Do I?
Now this is a complete myth. Australian approved pool safety covers don't just protect you and your kids. Accidental pool deaths often occur because someone has gained unauthorised access to a pool by finding a way around or over the fence. A safety cover also ensures that your pets don't get into the pool at night and damage a vinyl cover by scratching at it with their claws.
Q – I normally shut my pool down for the winter but haven't covered it before. With a choice of a solid/mesh cover or a cheaper plastic one, why wouldn't I choose the cheapest option?
The best way to answer this question is to give a brief outline of what each cover actually does.
Cheap plastic cover
A cheap plastic cover can barely be described as a cover since in reality all it does is float on top of the water without any form of anchorage. Its main function is separate the good water in the pool from the bad water which forms on top in the winter months and initially it will keep debris and leaves out of the pool. Unfortunately as it's not secured, this type of pool cover can get very heavy and end up being pulled into the pool alongside any debris that has collected on top – in essence meaning at this point you still have an uncovered pool! If you're going to use this type of cover then it's vital to drain off pooled water periodically to keep your cover afloat.
Mesh/solid cover
Our winter shutdown cover provides total pool shutdown and also reduces water evaporation by a whopping 99.6%. Installed correctly it seals the pool off totally, prevents dirt, dust, and leaves from entering, and eliminates the need for filtration. It's manufactured from reinforced vinyl and custom made for a precise fit. Any excess water that collects after rain, still needs to be removed however.
Leaf/debris mesh cover
Another option, which doesn't allow for total pool shutdown, however, but will keep leaves and debris form entering your pool during the winter months is our leaf/debris cover which is made from fine mesh. This stretches tautly across the pool, securing to the pool surround with straps, so that any debris stays high and dry out of the water, and in the case of leaves, these often blow away when it's windy. Light weight and easy to handle, any rainwater falls through the mesh, effectively topping up your pool water. It also helps reduce water evaporation by up to 85%.
At Just Covers we provide pool cover solutions for just about any pool. If you have any questions relating to our pool covers, then get in touch on 1300 268 377 and speak to our pool cover experts.