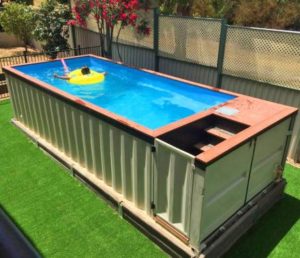 While shipping containers were once used solely for shipping cargo they've gradually been put to use in a wide variety of other innovative ways outside of the shipping industry. You may have seen them converted into additional office space, portable toilets, and even as living accommodation. But if you're not up into moving yourself and your family into a shipping container just yet, then why not consider another use which will bring the family together while having fun and even benefit your health through exercise?
Why not invest in a shipping container swimming pool. Yep, you heard right, but before you start wondering why on earth would you possibly want to swim in a shipping container, let's take a look at some of the benefits.
Cost
The main attraction is undoubtedly the price. Above ground pools are considerably cheaper than in-ground pools which including excavation and installations can range from $35,000 to in-excess of $100,000 for a concrete pool. If you order a shipping container pool that's 'ready to go' depending on whether you order a 6 metre pool or a 12 metre pool, you're looking at roughly $25,000 for the smaller size and $39,000 for the 12 metre pool. Of course, if you have the skills you could go down the DIY option.
Quick installation
Installing an in-ground pool can take several weeks and makes a lot of mess. This doesn't matter so much if it's a new build home, since it makes sense to excavate and install an in-ground pool at the same time but if you've got an established garden then a far better choice is arguably an above ground pool.
With a container pool all that's required is for you to level out an area and cover it with a sufficient depth of concrete to ensure a solid base for your pool. Most times a reputable builder can get the construction work competed in a day.
You'll also need an electrician to connect the pool filtration system to the mains as well as a few additional sockets for lights and other accessories. Once your pool arrives, it really is a matter of plug it in and start to enjoy it.
Fill it up
Swimming pool depth may be an issue for some people. Store bought pools tend not to be that deep and there may be restrictions on how far down you can install an in-ground pool. Shipping containers, on the other hand, can be as deep as 2.9 metres but if you're constructing your own container pool, you can always have it cut down.
Use it as a spa
Most container swimming pool companies provide a number of options which serve to heighten your enjoyment. Things such as a heat pump which lets you choose how warm you want your water – combined with a mineral system, it's almost like having a 'hot springs' sensation in your back yard. Or a sparkly interior just for the girls!
Move it
One final thought to leave you with is the fact that a container pool can be emptied and moved should you decide to up-sticks and move to a different property. So in effect your investment just keeps working for you, wherever you are.
While we can't help you out with a container pool, we can help you keep it free from leaves and debris. Or top quality containers pool covers can be customised to the exact size of your pool for hassle free secure pool protection.
If you're interested to know more about any of our pool covers then call 1300 268 377 and speak to one of our friendly, knowledgeable pool cover experts.