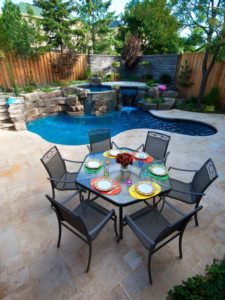 Just because you don't have the space for an olympic sized swimming pool it doesn't mean you have to give up on your poolside fantasy.
You know, the one where you're reading your favourite chick lit and drinking a strawberry daiquiri through a long bendy straw.
Swimming pools come in all shapes and sizes and contrary to popular opinion – size doesn't always matter!
To make the most of a small space, why not flip it on its side and take a look at the unique benefits of installing a small backyard pool.
Intimate space
A small in-ground pool offers the perfect relaxing space, whether you're swimming alone or with a loved one. You can easily tuck a small pool into a corner of your garden or next to your patio where you can use landscaping features and exquisite architecture to make it look amazing. Imagine the sound of water from a fountain trickling down rocks, vibrant tropical flowers, and a shade-giving umbrella – heavenly!
Top tip: fountains and waterfalls will elevate your pool from good to sublime and you don't need a big pool in order to incorporate them into your design.
Let your creative juices flow
Let your creative side run wild when designing a small pool in order to maximise your space. Smaller pools won't make such a huge dent in your wallet which means you'll have more to spend on luxury features. Yippee!
Stuck for ideas?
How about turning your backyard into an exclusive retreat with a small tiled pool? A raised day bed provides the perfect place for chilling in your own personal paradise while a fire bowl showpiece will warm you and your guests up on a chilly evening.
Just imagine stretching out on a sun lounger listening to the gentle sound of water trickling over the edge of a small infinity pool.
Or how about installing a fire feature next to your pool for night time swims that are truly dramatic? You could use a series of stepping stones in the pool that connect with your deck or patio. These have both a decorative and functional purpose.
A small shaped pool with a submerged tiled table at one end, will give you enough space to stretch out or cosy up with your friends. Don't forget the cocktails and a platter of fresh seasonanal fruit.
If you fancy the intimacy and relaxation of a hot tub only a little bit bigger, then a 'spool' or combination of pool and spa features could be the solution.
Top tip: If you're working to a limited budget then an above ground pool costs considerably less and has a smaller footprint. You can make it look beautiful by dressing it up with custom decking and tropical plants.
A little creativity and a small garden can result in what can only be described as a beautiful oasis. As you relax in the refreshing water of your own private retreat, you'll wonder why you ever doubted the potential of your garden.
At Just Covers we don't just give useful pool advice, we also provide custom covers for swimming pools of any shape and size. We specialise in providing covers for pools with rock features and waterfalls, which many other companies are unable to do. Why not check out our website or contact us on 1300 268377 for more information.