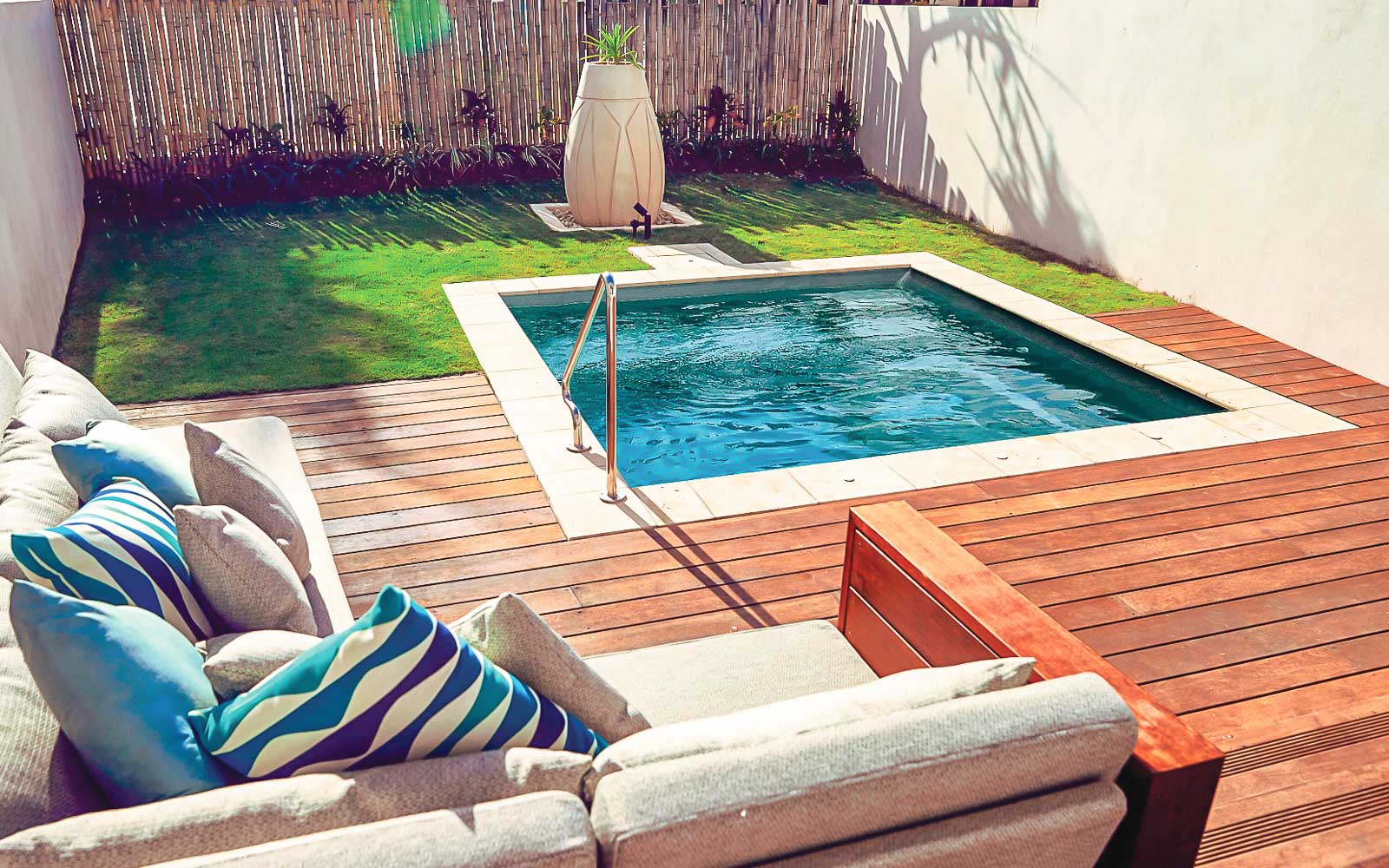 While summer may seem many months away and way too early to be thinking about swimming pool trends for us, it's the perfect time to be planning your pool and getting it ready so that once summer has arrived all you've got to do is dive in and enjoy.
The Covid-19 pandemic has changed the way many of us look at our swimming pools and it's gone from being something nice to have in the yard to something that's actually essential. There has never been such a demand for pool building jobs! So, let's take a look at what's hot right now in swimming pools.
Swimming pool trends 2021
Plunge pools
With backyards becoming ever smaller due to the rising cost of property plunge pools are now becoming more mainstream and many fibreglass pool manufacturers now stock these mid-size pools. A plunge pool is somewhere between a tiny swimming pool and a large spa and is a great option if you don't have the space for a full-sized spa.
Infinity pools
Once these were only found in high-class resorts but nowadays they can easily be integrated into a home pool. When a staycation seems like the only choice for some time ahead, an infinity pool brings a feeling of being on vacation.
Poolside bar
Now we're talking! More and more people are adding a poolside bar in 2021 and if you've ever tried keeping your footing in a pool while balancing a glass of something long and cool in your hand, you'll understand the need for a bar that's nice and close.
Advanced LED lighting
Adding some vibrant lighting to your pool is a cheap and easy way of sprucing up your pool without putting a large dent in your wallet. Many models change colour just by pressing a button and can really set the mood to make it whatever you want it to be. If you want to relax at night then how about a nice calming blue? Holding a colour themed party, then purple could be the way to go, As a bonus, LED lights are longer lasting by years than your conventional fluorescent or halogen pool lights and cost practically zero to run because of their energy efficiency.
Natural swimming pool
These are tailored so they blend seamlessly into your landscape so rather than a stand out feature, they look as if they've always been there. You could also consider a chlorine-free pool to complete the natural feeling.
Unique tile and pool finishes
You don't have to opt for boring blue or white. It's your pool so go as crazy as you like with a style that suits both your personality and your home.
So there you have it …… a few of the swimming pool trends for 2021. Don't forget every pool should have a swimming pool cover and no matter the shape or size of your pool, we're here to help.
Our swimming pool covers are custom made and installed by Just Covers and provide the perfect fit and protection your pool needs from dirt, dust and debris. To find out more contact our pool experts on 1300 268377 or visit our website for more details.