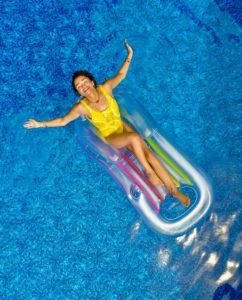 The thought of summer in Australia is enough to make anyone consider getting a swimming pool – having a cool pool to jump into in your backyard as the mercury rises is a tempting thought, to be sure.
That said, there's more to getting a swimming pool than handing over the cash and lazing on a lilo. While it will provide heaps of fun for family and friends, owning a pool is a long-term commitment. So before taking the plunge, here are some things you might want to consider.
Do you have sufficient space for a pool?
Theoretically, if you have any type of garden, the answer is probably yes since pools can be customised in all sizes and shapes. But if your yard is particularly small you may be looking at a plunge pool rather than one you can swim in.
Also, some gardens are better suited to a pool than others. It's best to have a pool in a sunny spot protected from the wind so that the water warms up from the sun. Placing it too near trees means you'll spend half your time scooping out twigs and leaves.
How much does getting a swimming pool cost?
It may be more than you think. Figures suggest anywhere between $20,000 to $100,000 for everything to do with the pool but you might want to spend more on landscaping and sun loungers.
Typically fibreglass pools are cheaper to instal than concrete pools but if your garden is on a slope, likely excavating costs will need to be factored in.
How long does construction take?
An in-ground pool can take several months and includes a consultation, assessment of the site, design and engineering, and approval from the council before you can start. Concrete pools take the longest at around 16 weeks followed by 12 weeks for a fibreglass pool.
What about ongoing costs?
Getting a swimming pool will ramp up the cost of utilities including water and electricity plus you'll also have to fork out regularly on pool chemicals. Also, if you decide to heat your pool and have a professional clean it regularly, costs will rise even more.
A pool is an investment in your lifestyle and probably worth the cost if you're going to use it a lot. But if you're only going to use it a few times each season, it may be an idea to calculate how much it costs per swim.
Your responsibilities
Having a pool also represents a lot of responsibility in terms of safety. As a pool owner, you'll be responsible for the safety of your kids as well as those of your neighbours. This involves complying with the rules for the state relating to pool fencing and investing in self-closing gates. Then there's safety around the pool to think about and constant supervision of children under the age of 5.
How about water restrictions?
Water is a precious commodity in many states and often water restrictions apply. A pool can take between 22,000 and 60,000 litres of water and when they're uncovered they're likely to lose around 7mm of water daily. Using a pool cover will reduce evaporation by almost 95% and prevent leaves and debris from getting into your pool.
At Just Covers we design and instal high-quality custom swimming pool covers. To find out more contact our pool experts on 1300 260377.