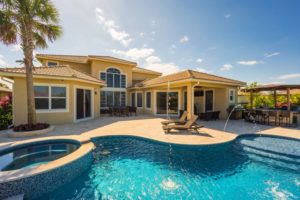 How you and your family live your life is unique and reflects who you are and the type of things you're interested in.    
While adding a spa to your existing swimming pool isn't unusual, the reasons for doing so are completely unique. It could be that you'd like to add a spa for entertaining and socialising, for health reasons, or to improve the quality of your home life.
Benefits of a home spa
You can spend more time with your family and relax in private
Feel healthier and happier at home
Entertain your friends
You and your family will love the hot water, how it makes you feel soothed, and the invigorating hydro-therapy created by the jets.
Spa design and poolside living
There's nothing quite like a spa to enhance the aesthetics and functionality of your pool. Choose the right design and you can transform your backyard into an idyllic paradise to enjoy whenever you want.
Benefits of an attached spa
The main advantage of adding on a spa is that it's immediately connected to the existing swimming pool water circulation system. This is important because it means that it blends in seamlessly with your pool's design and water layout.
You can also choose from a wide range of lighting styles, spa size, spa jets, and air blowers for bubbles … to mention just a few things.
Ways to add a spa
There are also a variety of ways a spa can be added to your pool:
Spillover spa – This is an elegant and classic design and when it's placed directly next to your pool it means that the spa and pool water mingle together. With this design, just one pump will be necessary for pool and spa, so less maintenance is involved.
Naturalistic spa – In contrast to a spillover spa, this can be attached or detached and integrated into the surrounding landscape. Often this style has rocks, waterfalls and planting to lend a feeling of tropical tranquillity. Typically, this type of spa is attached to your existing pool equipment and will use the same water as your pool. With reduced maintenance and no need to test the Ph levels separately, running costs are lower and you'll have more free time on your hands.
Benefits of detached above ground spa
A great alternative to an attached spa or hot tub is to install a detached spa. Perhaps you want this in a separate area of your backyard, or you want it to be self-contained. Choosing this option means eliminates the need for restoration work or for the installers to have to work with your existing pool. It can simply be installed right next to your pool or in a different place in your backyard.
Whether you install an attached or detached spa, you're probably wondering how and where you can find a cover?
At Just Covers we create bespoke pool covers for all sizes, shapes, and styles of pool, with or without an attached spa, waterfalls, and rocks.
It's an ideal solution to keeping your pool clean when it's not in use as well as extending the period during which you can comfortably use it.
To find out more, check out our website or call us on 1300 268377 if you have any questions regarding or pool cover, or you require a quote.