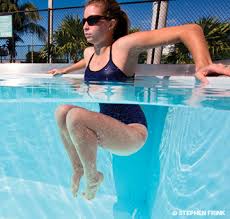 Most of us overindulge during the festive period so it's hardly surprising if one of your New Year resolutions is to become more fit and healthy.
If you're fortunate enough to have your own pool, then swimming is a great way to achieve those goals. Unlike air, water provides resistance and has the following benefits:
Tones the whole body (core, arms, shoulders, hips, and glutes)
Maximises cardio
Increases fat burn
Swimming is great for all ages and even if you're disabled or suffer from joint pain, the buoyancy of water means that motion and swimming is low impact.
There are various kinds of swimming and pool exercises which each have their own benefits and calorie burn. Let's dive in and take a look (pardon the pun!).
Lap swimming – while this may not be possible in your home pool, there are many advantages to be had from swimming in a full-size pool including building up your stamina and endurance. It's a great form of exercise to help you get into shape and, if you like numbers and stats there are several different waterproof wearables for clocking your distance per stroke, your count, intervals, and so on.
Water jogging – If your pool isn't big enough to swim laps then why not try water jogging instead? You'll still reap the same cardiovascular benefits and because of the resistance, it's a great way to tone your arms and legs.
Aerobics – Not only does water aerobics get your heart rate up, but it's great for toning and strengthening. Try using items like buoyant dumb-bells, kick boards and floats to assist your exercise routines.
Pool games – There are other ways to have fun in the pool and exercise, whether it's playing around with your kids or engaging in a game of volley ball with friends, to help keep fit. There really are endless opportunities to improve your wellbeing with a pool.
While you may be considering installing a pool for health reasons, you'll also find that it gives you and your loved one's hours of joy and happiness. Not only does this lead to health benefits but it can give you a longer life expectancy too. You'll benefit from numerous positive emotions every time you swim and exercise, including feeling more energetic, calmer, and happier – now what's not to like about that?
Whether you have a pool or are considering installing one in your backyard, don't forget that a pool cover can keep your pool cleaner and warmer and extend the period of time you can use it throughout the year. At Just Pools we specialise in custom pool covers for all shapes and sizes of pools, so why not check out our website and make a note of the number to call if you have any questions or need a quote. Call just Pools today on 1300 268377.