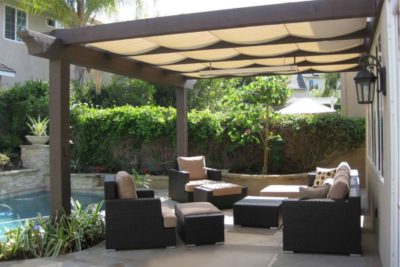 It's no secret that we Aussies have a love for swimming pools. As pioneers of the great outdoors we enjoy nothing better than playing in and lounging around pools. However, when it comes to pools and protection from the sun, you really need to make use of shade structures to keep yourself and your family protected while enjoying pool activities.
According to the Cancer Council shade is one of the most effective ways of protecting your skin from the sun's harmful rays and can reduce UV exposure by up to 75%. However, be aware that if you can still see the sky, then you're not 100% protected from the sun and should, therefore, combine shade with a combination of suntan lotion, sunglasses, a wide hat, or clothing. Here are a few backyard shade coverings that will let you make full use of your pool all summer long.
Sail Shade
This is one of the most budget-friendly options and involves tying a triangular UV protective and weather resistant piece of fabric between 3 points on your patio. The sail shade reduces heat by as much as 30% and allows the breeze to pass through the fabric also preventing rain from accumulating on it.
Retractable Awning
These add a touch of elegance to an outdoor space and allow you to enjoy the sun or the shade depending on the time of the day and the weather. A push of a button allows the retractable awning to swing back and forth over your patio seating area, protecting guests from the sun or a passing shower of rain.
Shade Umbrellas
Free-standing umbrellas don't involve any installation and can be moved around freely to any position in your backyard. The levered versions allow you to tilt your umbrella to provide just the right angle of shade against the sun. Additionally, they can be folded down in storms or put away for the season.
Wood Pergola
A wood pergola makes for an attractive architectural addition to shade your backyard and attaches to your house providing an interesting contrast to the existing brickwork or stone. If you're keen on DIY you can build one yourself from scratch or purchase a ready to install version. They're ideal for covering your table and chairs or your hot tub, letting you make use of shade in your outdoor setting. You can also plant trailing plants over the pergola to soften the architecture.
A Palapa
Finally, why not transform your backyard into a Mexican beach resort with a delightful thatch-roofed palapa? These are traditionally constructed with a roof made from dried palms although you can find them made from bamboo or reed, and even with synthetic roofs. A palapa kit is the easiest way to install your own little slice of paradise and gives you more time to lounge beneath it with a cocktail.
Meanwhile, to keep your pool water warmer and reduce the amount of water lost through evaporation, why not consider investing in a solar cover? Please note that not all solar covers are created equal and cheaper versions may not last for more than a season. Our solar covers are backed by a minimum of a 5-year guarantee and are the best you can buy.