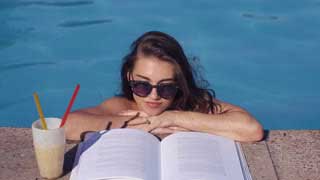 With the arrival of warmer temperatures, it's only natural for your thoughts to turn to long lazy days spent lounging poolside with a good book and a drink of something long and cool. There's nothing like the present to give your pool a makeover before summer arrives in force, and if it hasn't been used for some time, then you'll probably find that it's in need of a little TLC.
If you want to get your pool looking its best but you're not sure where to start, then here are a few tips to follow.
Top up your pool
If your pool hasn't been used for a while you may find that the water level has dropped. When checking out your pool's water level it's best to use the skimmer box as a guide. Ideally, your water should reach to about a third or halfway up the pool skimmer's opening. This enables it to operate at maximum efficiency.
If your pool water level rises to above your skimmer it prevents debris and insects from getting in, stopping your skimmer from cleaning the water effectively. By leaving the top half of the skimmer uncovered by water, it enables the water to circulate properly and draw in any debris. If, on the other hand, the water level is too low the skimmer will take in too much air. This causes problems with your pool's system and could result in your pump burning out – a costly lesson learned for a simple mistake!
Test your water
A simple water test will provide you with an analysis of the chemicals that your pool needs to remain in a pristine condition. Don't panic if you didn't do science at school – a pool test kit is quite easy to use provided you follow the directions. Most kits indicate your pool water's PH, total bromine, chlorine, alkalinity and acid demand. Other kits provide analysis on their websites or you can even take the sample to your pool supply store.
Check out your equipment
When did you last take a look at your pool's pump or filter? If your pool has had limited use for the past months then now is the time for an inspection to see if any parts need replacing.
Some indications that your equipment may need repairing or replacement include poor water quality even after excessive backwashing. If you're using the right amount of chemicals but your water is still not clear it could be that your pump, chlorinator, or filter needs replacement.
Top tip: If you do this in the cooler months you can avoid the summer rush and some manufacturers run special promotions and discounts to save you money.
Safety check
Making sure you have a safe and secure pool area irrespective of whether you have children or not, is vital as sadly pool deaths increase during the summer months. Our Pool Safety Net is the ultimate barrier between your child and the pool and could save his or her life. We custom-make our safety nets to the dimensions of your pool and it can even be fitted around waterfalls and rocks. Suitable for above ground and in-ground pools, over a solar blanket or an empty pool, it can be easily removed and refitted in less than 5 minutes.
Keep up the good work
Now you've got your pool looking healthy and clean remember regular maintenance to keep it looking that way.