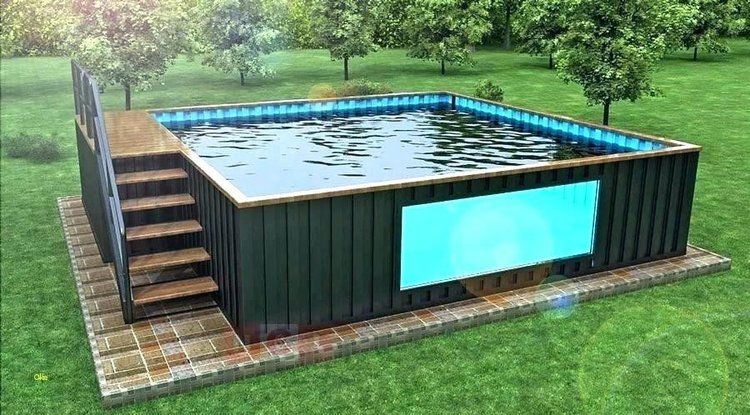 Think you can't afford a swimming pool, then you might just want to think again. Shipping container pools come in at a much lower cost and offer way more convenience than in-ground alternatives.
With budget-friendly renovations and sustainable building bang on-trend, there's never been a better time to consider investing in a shipping container pool. Personally, we're all for them and here are 5 reasons why:
Quick and easy to install
Just imagine this scenario: the pool arrives at your house in the morning, a water truck has been organised for the afternoon, it takes a couple of hours to fill and later that same day, the kids are in it and having fun. It doesn't get much better than that!
Transporting the container to your property is a no-brainer given its original use, and once there all it takes is to crane it into your yard which takes no more than an hour.
You won't blow your budget
Costs can spiral out of control when you're considering an in-ground swimming pool. If the site can't be dug and requires jackhammers costs are going to fly. Once plumbers and electricians are on board, there are even more costs to factor in. Shipping containers, on the other hand, simply have to sit on a flat area of land and often come with built-in plumbing, electrical and heating systems. Simple isn't it.
Easy to create a design
No matter the shape of your yard, it's easy to personalise a shipping container design regardless of whether you choose a 6-metre plunge pool or a larger 12-metre pool.
The side of the container is a blank canvas that people can decorate with ornate murals or even cut out a window so they can see people swimming inside. It's also easier for parents to keep an eye on the kids when they're swimming.
Low maintenance
A shipping container comes with an automatic guarantee that it can take a beating thanks to its welded steel body that is able to bear huge loads. When being prepared for home installation, the inside of the shipping container is lined with fibreglass. This means that to all intents and purpose, customers are actually getting a swimming pool rather than lining a container with corrugations.
Portability
Finally, if you move to a new house there's the option of taking your shipping container pool with you. This in effect widens your property search since it doesn't need to already have a pool.
On the flip side of this, if a buyer falls in love with your container pool and your new home already has a pool, then you can negotiate a price for it – either way, it's a win-win situation.
If you're considering a pool cover for your new pool then look no further than Just Covers. Our swimming pool container covers are elegantly understated and very simple to manage and can be ordered to your exact container specifications. No-fuss and no hassle just a premium cover. You can find out more on our website or speak to one of our pool experts by calling 1300 268377.