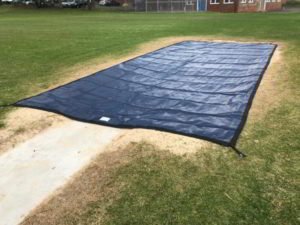 Sandpits are so much fun for kids encouraging them to be creative while teaching them different skills. Because there are no limits, kids are free to play in whatever way they want. It's hardly surprising, therefore, that practically every kindergarten or childcare facility has a sandpit for little ones to enjoy. However, great as sandpits are, without a sand pit cover to protect the sand pit when it's not being used, they can be harmful to children.
The importance of protecting a sandpit with the right sand pit cover
Unfortunately, it's not just children that enjoy sandpits. They also attract possums, vermin, and especially cats who can easily climb over an enclosure fence. Soft sand is appealing to cats who like to use it as a toilet which besides being unpleasant can also cause infections in small children. Parasites known as Toxoplasma gondii are sometimes present in cat faeces and children can unknowingly swallow the parasite by not washing their hands after playing with the sand. This can cause eye or brain problems in later years.
The best way to prevent Toxoplasmosis is to keep your sandpit covered when it's not in use with a custom made cover that's designed to fit its exact measurements. By doing this, insects, animals, and general debris are prevented from getting into the sandpit.
At Just Covers, we specialise in making sand pit covers from woven polyethylene which is highly resistant to UV and doesn't pool rainwater which could act as a potential hazard in a children's environment.
Not any old sand pit cover
Educators shouldn't have to struggle with cumbersome or heavy sandpit covers. While our covers are lightweight and robust we also design them so that wherever possible they can be hung on an adjacent wall or fence – makes sense, right?
We don't make common all garden sandpit covers in a one-size-fits-all model. While it may sound like a relatively simple task to design a sandpit cover, it's harder than you think. It needs to fit the dimensions of the pit perfectly as well as around any obstructions. Both fittings and attachments need to be child-friendly, safe and secure, and non-clog. The location and fittings need to suit the exact application.
At Just Covers, we treat each sandpit as a unique structure using a combination of design, manufacturing, and attachment skills to achieve the best results. Where possible, fence or wall storage is also factored into the design of the cover.
Sandpit rollers
It's just not practical to fold and relocate a large sandpit cover which is why, if it's too big to hang on an adjacent fence or wall, a roller may be a solution.
Most sandpit covers aren't suited to rollers for the simple reason that children will sit on the shaft and bend it which renders it useless, often in just a few weeks.
For a sandpit roller to be a success, a bench seat roller needs to be used and the cover has to be specially designed to attach correctly to the roller (which the experts at Just Covers can provide).
Be assured that whatever your sandpit, our experts will use their skill and expertise to achieve a cover that has a precise fit, is easy to handle, and looks pretty good too.
Give the children in your care the ultimate protection with a sand pit cover from Just Covers. Contact us for an online quotation and to arrange installation at your childcare centre. Alternatively, call on 1300 268 377 to speak to an expert.