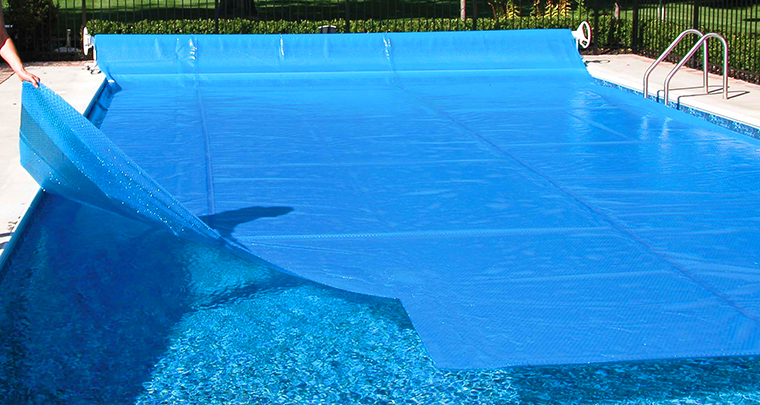 When it's warm and sunny there's nothing to beat having a pool in your backyard. It's a place to cool off when the mercury soars and a great place for those last-minute parties with friends and neighbours.
Extend Your Pool Season
Unfortunately, many people only get to use their pool for around 6 months of the year. If it's not cooler weather that forces them to close their pool, it's the high cost of keeping it open throughout the year. We've put together some tips to help you extend your pool season and carry on enjoying those morning laps, pool parties and moonlight dips.
With just a few changes, you can keep your pool warm all year round – honestly, it's simple.
If you want to avoid large monthly expenses and prevent the weather from stopping you from swimming, then read on to find out more.
How to extend your pool season – 4 easy tips
Invest in a solar cover
Using a solar cover is a good place to start if you want quick results. Without a cover, your pool will lose a lot of heat during the day – the water that you turn on your pool heater for.
A solar cover makes a big difference and can reduce pool heat loss by as much as 75%. By utilising a solar pool cover you can warm your pool by 8˚ for FREE. It's a bit like covering a pan with a lid when you're boiling water which helps the water heat up faster and provides a barrier that stops the water from evaporating while maintaining its temperature.
Install a swimming enclosure
While solar pool covers are great for maximising heat retention and reducing heat loss, they can't work their magic when the weather turns cold and there's little or no sunshine. A cold day is a cold day and nothing's going to change that.
However, if you were to place an enclosure over your pool that blocked out the wind, that could all change. And, you were to use a glass enclosure, it would be a bit like having an indoor pool with the difference being that it's in your back yard. By installing a pool enclosure you:
Insulate the whole of your pool area
Enjoy a cleaner pool
Block out chilly winds
Extend your pool season
Use a pool heat pump
A pool heat pump is a relatively simple bit of technology. Even better, it's highly efficient and makes a low-cost option for heating your pool practically all year round. It works like an air conditioner or refrigerator – but in reverse. A fan sucks the ambient air into the heat pump which is then heated further and transferred into the pool water that is circulating through the pump. The heated pool water is then directed back into the pool via the normal inlet pipe.
Use automatic timers to stay on schedule
Automatic timers help reduce your workload particularly if you don't have the time to keep up with caring for your pool or you travel away a lot.
An automatic timer can power your pool system automatically, including your pool filter and heater and you don't have to be anywhere near it.
Simply set your timer limits and watch your pool spring to life. No more walking to and from your pump room to turn on your pool. No arriving home from work to find a cold pool because you forgot to turn on the pool heater.
To extend your pool season is easy with these 4 simple tips.  So forget about closing your pool for winter when you could easily reap its benefits nearly all year round.