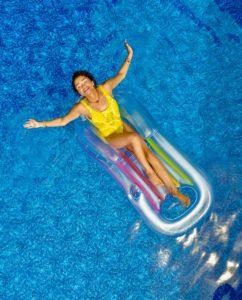 When installing a swimming pool it's more than just a large expanse of water – it can add a new dimension to your life and change your lifestyle in more ways than you thought possible.
With winter approaching, it's a perfect time to start considering the swimming pool that you've always dreamed off and have it up and running in time for next summer. As well as the convenience of taking a dip whenever the fancy takes you, there are plenty of other benefits. So, let's dive in and take a look:
6 Benefits of a Swimming Pool
Fun with family and friends
A pool can be a great way for your family and friends to come together relax and have fun. There's nothing to beat lounging around on a warm sunny afternoon. Owning a pool is also a great way to spend your summer vacation at home.
Fitness
Swimming pools aren't just a source of entertainment. You can consider it an investment in your family's health. Installing a pool is a simple way of ensuring you and your children are getting the exercise you need. Exercising in water is good for all ages because it's low impact which means just about anyone can exercise without risk of injuring themselves.
Increased home value
One of the most appealing benefits of a swimming pool is that it will add value to your home should you come to sell. A well-designed swimming pool that fits in with the landscape of your backyard can turn it into something totally unique. In a competitive market, standing out from the crowd could make your home more attractive to potential buyers.
Stress relief
Life can be stressful especially when you're juggling work and kids. Being in water is one of the most natural ways to relieve stress and a cool dip in the pool after you've finished work will be enough to feel those stresses floating away.
Fun for grandchildren
Do you worry that you don't get to see your grandkids enough? Having a swimming pool is a sure-fire way to change that and will get them excited about visiting you.
Aids sleep
Another of the benefits of a swimming pool is that it helps you to sleep. Swimming is a great way to wind down at the end of a long day and get you ready for sleep. Children who have spent the whole day in and out of the pool will be exhausted by bedtime and ready to sleep.
A swimming pool is an investment in both your house and your lifestyle. Whether you use it for exercise or entertainment the benefits of a swimming pool far outweigh the installation costs.
Don't forget to invest in a good quality swimming pool cover too, as this will help reduce the costs of running your pool and save time spent cleaning it.