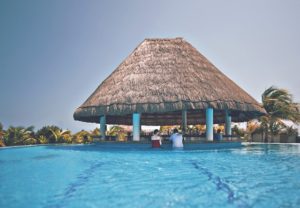 Although summer has come and gone it shouldn't stop you looking at the current swimming pool trends for 2020. Perhaps you're wanting to revamp an existing swimming pool that's looking a bit past its sell-by date or maybe you want some ideas of things to include in that swimming pool that you've been saving hard to get. Either way, let's dive in and take a look at what's going down in pool design.
Tanning Ledges
If you enjoy using your backyard as a means of getting a tan then a tanning ledge could be perfect for you. We all know of people that like to cool down by dipping their toes in the water rather than immersing themselves fully and a tanning ledge enables you to do this. A tanning ledge is shallow enough to enjoy reclining on a lounger but deep enough to dip your toes in without getting all the way in – perfect for kicking back with a good book or using your phone.
Dark Pool Interior
Another of the swimming pool trends for 2020 is having a dark pool interior. Gone are the days of being limited to light shades of blue. Dark pool interiors have become more popular because of the benefits they provide. Because the colour absorbs and retains heat and sunlight, you can expect lower energy bills to keep your pool warm. What's more, debris isn't as noticeable in a dark pool. It's also something that not many other people in your neighbourhood will have, so it's likely to stand your pool out from the crowd.
Swimming Pool Trends 2020 – Shallow Pools
Who said a swimming pool has to have a deep end of at least 5 to 6 feet?  Shallow pools are becoming more popular with pool owners purely wanting to use it for family fun. What's more, you can reduce your budget by saving the costs of digging and levelling your backyard. People of all ages will enjoy a pool that is the same depth throughout.
Swim-up Bar
Having a swimming pool is a great excuse for holding a party and naturally, you want to provide beers and a few cocktails for everyone to enjoy. But who wants to get out of the pool to grab a drink when they're having so much fun in the water? Now that swim-up bars are available you really can have your beer and drink it too.
Just imagine an in-ground bar complete with some in-pool stools. This has to be one of the coolest swimming pool trends of 2020.
LED Lighting Solutions
Not only is LED lighting eco-friendly but they're great for lighting up your pool and the surrounding area too. LEDs are more sustainable than other types of pool lighting and provide lighting that is more aesthetically pleasing. They come in any colour you can imagine which enables you to play with colour and get those creative juices flowing.
There are even phone apps that let you switch colours or brightness with a tap of your finger – what a way to get your party started.
Don't forget, you can also save costs of maintenance and chemicals by using a pool cover. Here at Just Covers, as the name implies, we supply and install swimming pool covers designed and custom-made to fit the exact contours of your new pool when it's finished.
We hope you've enjoyed reading about some of the swimming pool trends of 2020 and look forward to helping you with a pool cover sometime soon.