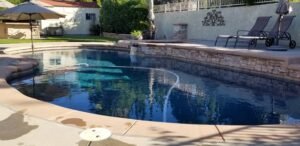 As well as being one of the favourite places for people to relax during the hot summer months, a community pool is usually pleasing on the eye. A great looking pool can, in the minds of a patron, enhance the facility's status, which for you means increased numbers of swimmers in an already busy season. For this reason, you may be reluctant to invest in a pool cover.
Naturally one of the main purposes of pool maintenance is to preserve aesthetics but while a pool cover may not be the most attractive piece of equipment visually, the protection it offers your pool should be a good enough reason to convince to invest in one.
Check out 4 ways a pool cover will make your community pool a better to place in during the summer.
Less evaporation of water – We all know it gets hot in the summer and also that heat causes water to evaporate. The combination of sun and water means your pool water will disappear at a rapid rate of knots.
Having swimmers in the pool during the day may ease this problem but water is still lost from an uncovered pool during the night. Placing a cover over your pool after hours will block excess heat from the surface of the water. Furthermore, the cover will help trap any moisture that happened to evaporate, adding to the original supply in the pool. Over time, this will lower the cost of your water bill, giving you money to spend in other areas of pool management.
Reduces usage of chemicals – In large facilities, community pool owners may have to add chemicals to the water every day. While a cover doesn't replace a water treatment, it will cut down drastically on the amount of chemicals needed to keep the water clean and hygienic.
By preventing dust, leaves, insects, and debris from falling into the pool a cover will reduce both chemical and mechanical cleaning necessary before opening up the pool in the morning. The cover can be carefully folded to wrap up all the debris, leaving your pool sparkling clean.
Solar panels save you money – If your pool is located in a particularly sunny spot, you may want to consider investing in a pool cover with solar panels. These work by letting in a small amount of diffused sunlight so the water beneath is naturally heated by the elements. The solar panel covers still prevent evaporation so that no water is lost. If you're looking to claw back some money, the savings on pool heating costs make this a good investment.
Protection from worst-case scenarios – As a community pool owner, there's probably nothing worse than receiving a call to tell you that someone has got into your facility and injured themselves. Pools are notoriously an appealing location for adventurous teens to sneak into, but a cover can protect trespassers from injuring themselves on your property.
A properly fixed quality pool cover can prevent anyone from entering the water.
There are other ways a cover can benefit your pool but to save money and protect your patrons, you should consider investing in a pool cover for your facility.