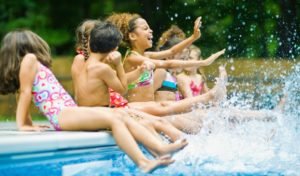 Everyone loves the thought of having their own swimming pool in their back yard but does a swimming pool add value to a property, especially when you come to sell it?
There are plenty of reasons for wanting to install a swimming pool in your garden – exercise, relaxation, aesthetics, entertainment, keeping the kids amused – but will it help you get more money for your property should you put it up for sale?
Does a swimming pool add value to a property?
We'd say that there isn't a great deal of point in investing in a swimming pool if you reside in an area with a cooler climate and can only use your pool a few months of the year. It's been known for some people to invest thousands in a heated pool and not be able to recover their initial outlay when they came to sell their property.
Before making a decision, however, we'd advise you to take a look at your local area. Do most of the houses have pools? If they don't then it's likely there's a good reason.
It's possible that a pool could reduce the number of potential buyers simply because if they don't want a pool then why bother looking at your property. Anyone wanting a pool, could in theory simply build one themselves.
However, if you live in an upmarket area in a warm climate, then most buyers are likely to expect a property to have a pool.
Ask an estate agent
Before shelling out big money, we'd advise that you speak to your local estate agent and ask them "does a swimming pool add value to a property?" It's worth finding out what the extra value of your house might be were you to add install a swimming pool. Naturally, you'll need to look at the potential costs and site restraints before reaching a decision.
If you have a level plot with good access for heavy machinery installing a pool could be cost-effective. But if your plot slopes, is rocky or has difficult access to services or they may need to be relocated, the costs could far outweigh the benefits.
Some buyers could find a pool to be an inconvenience what with the maintenance involved and as a result steer clear of any property with a pool. Others might prefer to have a swimming pool and will be prepared to pay more to get one.
If you decide to invest in a pool, then be careful that it doesn't overwhelm your outdoor space and leave you very little or no yard. As with your home, how your pool is presented and maintained will be a factor in determining how much of an asset it is, when it comes to sell.
Does a swimming pool add value to a property?
Provided it's well landscaped and integrated into the design of your outdoor space, an in-ground pool is likely to add the most value.
So now you have an answer to "does a swimming pool add value to property" one last thing to consider is where you are in your stage of life.
If you have young children then it's likely to be worthwhile investing in a pool since children love playing around in pools. But teens are different – often they prefer to hang out with their mates at the beach.
Of course, should you decide to install a swimming pool then it's a good idea to purchase a pool cover to help reduce your running costs and extend your swimming season 😊
Here at Just Covers, we don't just give advice, we design bespoke swimming pool covers for all sizes and styles of pool. To find out more visit Just Covers or contact our pool cover experts on 1300 268377 if you need further information about our products.